Cherry Creek Village
Cherry Creek Village is an upscale residential neighborhood located in the heart of Denver, Colorado. Known for its beautiful homes, stunning views, and convenient location, Cherry Creek Village is one of Denver's most desirable neighborhoods.

Cherry Creek Village boasts a diverse range of homes, from elegant historic properties to modern luxury homes and apartments. Residents of Cherry Creek Village enjoy a wide variety of amenities, including upscale shopping, dining, and entertainment options at the Cherry Creek Shopping Center.

Nature lovers will appreciate the area's scenic parks and open spaces, including Cherry Creek State Park, which offers hiking, biking, and water sports. Cherry Creek Village is also conveniently located near some of Denver's top-rated schools and universities, making it an ideal location for families with children.

With its prime location and high-end amenities, Cherry Creek Village is a popular destination for professionals, entrepreneurs, and executives seeking a sophisticated lifestyle. If you're looking for a luxurious residential neighborhood with easy access to all that Denver has to offer, Cherry Creek Village is the perfect place to call home.


List of Zipcodes
| Zip Code | Zip Code Name | Zip Code Population |
| --- | --- | --- |
| 80111 | Centennial | 32,120 |
| 80113 | Englewood | 23,009 |
| 80112 | Centennial | 38,146 |
Demographics
| | Zip Code | City | County | State | National |
| --- | --- | --- | --- | --- | --- |
| Population | 32,120 | 11,393 | 654,892 | 5,759,582 | 331,426,769 |
| Population Density | 2,982.1 | 7,284.6 | 820.6 | 55.5 | 93.8 |
| Percent Male | 49.0% | 49.0% | 49.0% | 49.0% | 49.0% |
| Percent Female | 51.0% | 51.0% | 51.0% | 51.0% | 51.0% |
| Median Age | 41.6 | 42.7 | 38.9 | 40.2 | 39.0 |
| People per Household | 2.4 | 2.7 | 2.5 | 2.8 | 2.6 |
| Median Household Income | $105,941 | $111,761 | $75,120 | $115,942 | $61,963 |
| Average Income per Capital | $66,136 | $61,163 | $40,034 | $50,725 | $33,235 |
Market Data
| | Zip Code | City | County | State | National |
| --- | --- | --- | --- | --- | --- |
| Median Sale Price | $650,000 | $625,000 | $402,500 | $425,100 | $277,796 |
| Median Age of Home | 44.0 | 50.0 | 47.0 | 39.0 | 49.0 |
| Homes Owned | 60.0% | 72.0% | 61.0% | 67.0% | 58.0% |
| Homes Rented | 33.0% | 24.0% | 34.0% | 23.0% | 31.0% |
| Homes Vacant | 7.0% | 4.0% | 6.0% | 4.0% | 11.0% |
Market Trend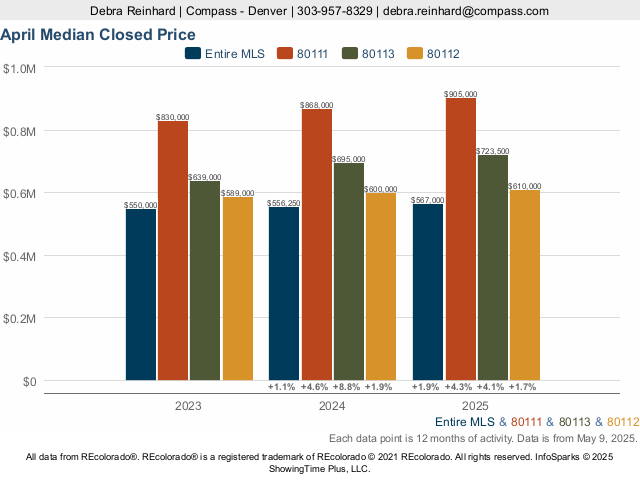 properties on market
Contact Us
RE/MAX Professionals
6020 Greenwood Plaza Boulevard
Greenwood Village, CO 80111, USA
Quality of Life
| | Zip Code | City | County | State | National |
| --- | --- | --- | --- | --- | --- |
| Cost of Living Index | 105.0 | 119.0 | 102.0 | 110.0 | 100.0 |
| Health Cost Index | 115.0 | 130.0 | 114.0 | 119.0 | 100.0 |
| Commute Time | 19.0 | 20.0 | 25.0 | 25.0 | 24.8 |
| Commuting by Bus | 2.0% | 2.0% | 3.0% | 1.2% | 2.1% |
| Commuting by Carpool | 7.0% | 8.0% | 11.0% | 11.0% | 13.5% |
| Commuting by Auto | 84.0% | 83.0% | 81.0% | 80.0% | 79.1% |
| Working at Home | 7.0% | 6.0% | 4.0% | 5.2% | 4.7% |
Walk Score®
Climate & Environment
| | Zip Code | City | County | State | National |
| --- | --- | --- | --- | --- | --- |
| January Average Low Temperature | 15.9 °F | 15.9 °F | 15.9 °F | 13.7 °F | 22.6 °F |
| July Average High Temperature | 89.5 °F | 89.5 °F | 89.5 °F | 77.5 °F | 86.1 °F |
| Annual Precipitation (inch) | 18 in. | 18 in. | 18 in. | 19 in. | 38 in. |
Schools & Education
Safety & Crime
Zip Code
City
County
State
National

Violent Crimes

Calculated annually per 100,000 residents

Assault
158.1
487.8
291.4
246.3
250.2
Murder
2.2
0
7.2
3.8
5.0
Rape
68.7
56.3
79.5
67.2
42.6
Robbery
65.8
43.8
164.1
63.6
81.6

Property Crimes

Calculated annually per 100,000 residents

Burglary
242.9
531.6
461.7
348.4
340.5
Theft
327.2
3,633.8
2,008.4
1,858.3
1,549.5
Motor Vehicle Theft
606
387.8
569.1
384.0
219.9
Take a photo of this QR code
to keep this website details